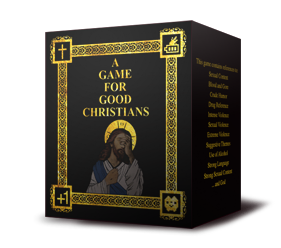 For our American listeners – HAPPY THANKSGIVING!
Whether you are listening here or from another country – I had a chance to sit down with the guys that designed A Game For Good Christians – a Cards Against Humanity style game with the purpose not just to be terrible people, but to interact with the harder passages of the Bible and wrestle with their place in the greater narrative of Scripture.
Fair warning – there are a couple of times where strong language is used. Because I know that our listeners include families and younger kids – I've bleeped them out. The "theology of swearing" that the guys use is actually a big discussion point, so definitely feel free to interact with that, and with them. They shared that they love getting feedback and respond quickly. They'd love to hear from you.
Podcast: Play in new window | Download
Subscribe: Apple Podcasts | Android | RSS